10 Amazing DIY Rock Saw Builds
For most any of the lapidary hobbies more involved than buying tumble-ready rocks, a good rock saw is one of those machines that you literally can't do without. With a little bit of mechanical skills, creativity and a whole lot of inspiration and advice from the RTH Forum community, our members will show you how that perfect saw can be yours without breaking the hobby piggy bank.

Rock saw sizes and types are highly variable, everything from small trim saws designed to trim small rough for better tumbling, to mega machines capable of cutting slabs out of giant boulders. What follows are 10 amazing home built rock saw projects that cover a variety of lapidary needs. All of these builds, shown in no particular order, were built and posted by the amazing and talented lapidary folks who call the RTH Forum Community their hobby home page.
1. Homemade 18″ Slab Saw
Long time RTH Member Jeff (rsxcram) did such a beautiful job on this 18″ slab saw it is hard to tell that it is a homemade saw. Jeff bought the original plans off Ebay and took his time building this awesome machine and now has a powerful workhorse saw to show for it.
Check out the full Homemade 18″ Slab Saw build on the RTH Forum
2. Homebuilt 10″ Trimsaw/Grinder
RTH member farmermac dazzled us with some of the fanciest CAD drawings we had ever seen and it didn't take long to post pictures of the actual build – and it did not disappoint. With the saw complete we look forward to seeing the grinder side of the machine take operational shape!
Check out the full Homebuilt 10″ Trimsaw/Grinder build on the RTH Forum
3. Homemade Slab Saw
RTH member rockbottom had the convenience and practicality of Covington's workhorse rock saw in mind when he built this very professional looking 20″ slab saw. What truly sets this one apart is the inclusion of the large viewing pane in the lid and built in de-misting system.
Check out the full Homebuilt Slab Saw build on the RTH Forum
4. My Homemade Slab Saw
Built by RTH member mudshark, this badboy slab saw lives up to it's namesake, turning rocks into mud and producing beautiful slabs for lapidary. This builder frugally pieced together his saw from existing materials and fleamarket finds and the overall cost came in under $450 which is just a fraction of a saw this size on the open market.
Check out the full My homemade slab saw build on the RTH Forum
5. homemade 12″ slab saw
Long time RTH Forum community member Tom (Peruano) was the recipient of this home built saw in rough condition. After much elbow grease in cleaning and restoring to operational, along with input from the forum community, the saw revealed qualities that indicated that it was built by the hands of a master.
Check out the full homemade 12″ slab saw build on the RTH Forum
6. Rock chop saw project
This build by member Brian (number21) is out of the ordinary as far as rock saws go, with the design being a drop saw where the blade is manually pulled down and through the work by the operator. Sporting a counter balanced 1/3hp motor and an 8″ blade this water-cooled saw is perfect for quickly whacking a few small to medium stones. Thundereggs for breakfast anyone?
Check out the full 8″ Rock Chop Saw build on the RTH Forum
7. Homemade Thunderegg Gravity Feed Saw
Speaking of Thundereggs, this crafty build by member jm was created specifically for the cutting those orbs of delight that we all over. Featuring a unique weighted gravity feed pull down (instead of pull through) vice design, jm was happily cutting those eggs at a cost of under $50 and a bunch of parts he had laying around.
Check out the full Homemade Thunderegg Rock Saw build on the RTH Forum
8. Homemade 7″ Trim Saw
With his amazing 20″ slab saw build shown above already under his belt, rockbottom turned his attention to building a 7″ bench top trim saw and the results are very impressive. This little workhorse of a saw features wonderful sheet metal work and a controlled drain for easily drying the blade after usage.
Check out the full Homemade 7″ Trim Saw build on the RTH Forum
9. Building a 14″ Saw
RTH member bendsum made efficient use of fiberglass, bondo and resin in the creation of a leak proof enclosure for this unique 14″ homemade rock saw. This saw features a very unique overhead mechanical crank for moving the rock relative to the blade and that along with the gravity feed design promises to keep the operator's hands nice and clean compared to modern rock saw designs.
Check out the full Building a 14″ Saw build on the RTH Forum
10. Drop Saw, 24″ Slab Saw Project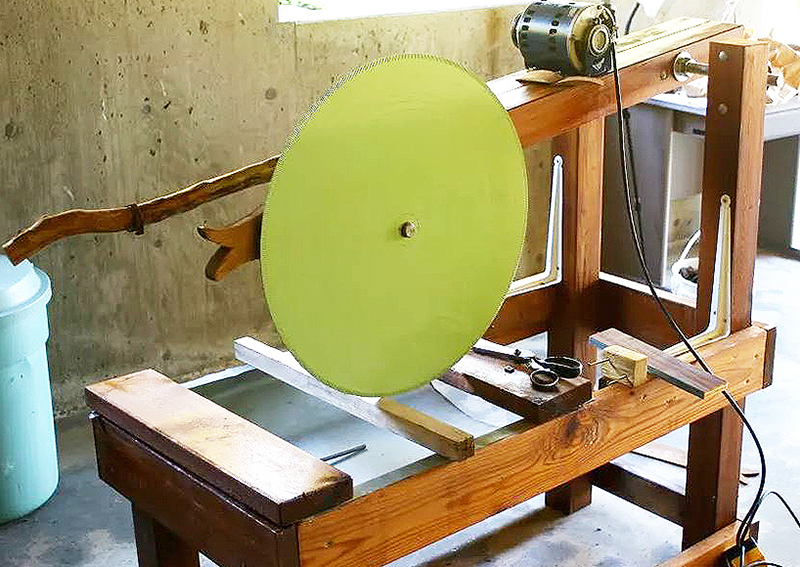 Last but certainly not least, this monster was built by member DJ (lakeandco) and it takes the drop saw design to a whole new level. With inspiration from number21's chop saw build shown above, DJ went all-in on this heavily built machine featuring a 24″ cutting blade.
We hope you have found joy and inspiration in these creative rock saw builds. If you have built, or are thinking about building any type of lapidary equipment please document your progress and or results with photos and submit it as a DIY build on the RTH Forum – Lapidary Equipment board.
Also check out the complete collection of Lapidary Equipment builds on www.RockTumbling.com